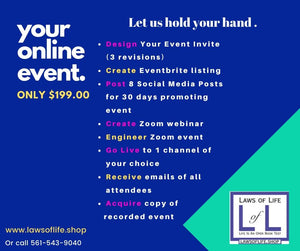 LawsofLife.shop
Your Online Event Package - $299.00
Regular price
$299.00
$0.00
Unit price
per
Your Online Event Package.
The Laws of Life Team will assist with the following tasks within this package:
(1) Graphically Design your Event invitation  (30 minute discussion, 3 revisions)
(2) Create Eventbrite listing for your event
(3)  Post 8 social media posts about your event
(4)  Create Zoom webinar link
(5)  Engineer Zoom event up to 100 total participants
(6)  Go Live to 1 channel  (Additional channels are an extra expense)
(7)  Receive email addresses of all attendees
(8)  Acquire copy of recorded event.  (Recording will NOT be edited.  Additional charges apply for editing)
The following tasks are NOT included within this package:
(1)  The design of your event such as:
(a)  Venue
(b)  Lighting
(c)  Set Design
(d)  Speakers
(e)  Your Powerpoint
Additional charges apply if you require consultation about the logistical planning of your event.
This promotion ONLY applies to ONLINE events.  
This promotion lasts through 12/15/20 and event must occur by 12/15/20.
---
Share this Product
---